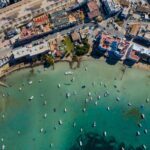 Faith Ibiza
Covid Terms
Can my trip take place? Is my travel destination safe?
Detailed information on specific travel destinations or on the exact entry requirements of individual countries vary widely and can change from day to day. In some countries and regions it is currently possible to enter the country without any restrictions, while others require pre-registration before entry or a negative Covid-19 test on arrival. Please understand that we, as the broker for your holiday home booking not the contracting party however we are here to help and assist you in any way.
Before you travel, please make sure you find out about any requirements and regulations that may apply at your travel destination. The websites of the respective local tourist offices and tourism offices as well as the website reopen.europa.eu of the European Union. It can also be helpful to send an inquiry to your provider or contact person on site, we can assist with this. You will receive the contact details with the travel documents that will be sent to you by email prior to arrival.
Can I cancel my booking free of charge because of Covid-19?
Cancellation free of charge due to Covid-19, for example because your travel area is considered a risk area, because you or a fellow traveler is sick with Covid-19, you are in quarantine at the start of your trip or you generally feel unsafe, is dependent upon your contracting parties terms which we advise you to consider fully at the time of booking. Holiday home stays are individual tourist services for which a free cancellation or reimbursement is dependent on whether the accommodation can be provided by the provider in accordance with the contract or not. If you do not want to start your trip, you have the option to cancel in accordance with the general terms and conditions of the respective provider. However, if there is a travel warning or other official restrictions, a goodwill request can be made to the provider. We are happy to help you with this.
What if my trip cannot take place as planned due to the regulations in force at the destination?
If there is no officially issued ban on accommodation at your travel destination, you can generally travel. Local regulations, such as carrying out a Covid-19 test upon arrival, the registration of all fellow travelers, a ban on going out or recreational facilities, sights etc. that are only partially or not open on site are not an obstacle to the stay in itself being unable to take place . The same applies if only a certain number of people and / or households can be accommodated in the same accommodation at the same time at the travel destination, but you are planning to travel with a larger number of people and have registered this when booking. In this case, the stay can still take place, as the holiday home as such can still be provided and you can reduce the number of fellow travelers to the required minimum.
Faith in Ibiza. Faith in us.